Ruphus -> RE: Small signs of life (Dec. 27 2016 12:41:54)
Disappointing to see that the plate wouldn´t be munched. [:D]
Seriously though, glad that you appreciate the product!
(On the local market cake making has been adapted from Germany / Austria since many years, however only the easy&fast stuff like pound cake and cream tart, which cake shops yet sell for about 30-40 bucks / kg.)

The pic is from the very first specimen, which tasted good, but wasn´t yet perfect as I had to figure out first, how to deal with the crappy oven. Follwowing stuff however improved, and now I achieve colors like below.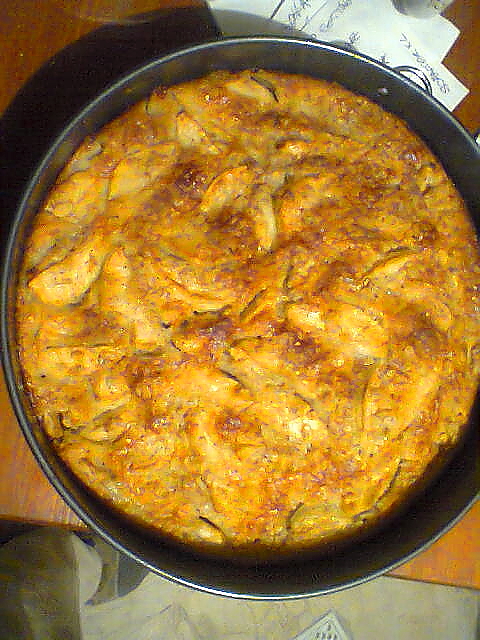 -

I am certain that your perspective (analog to a vision that I grew up with) will meet conditions in Spain well.
But certain spheres don´t really balance.

Here, aside from rich flavor of (only the naturally grown, while getting more and more scarce) fruits and vegetables, apparently due to specifics of soil, and maybe the light conditions (great for photography, -As long as outdoors one not being hunted by officials and henchmen for dragging around large camera) there really isn´t much to write home about, whilst the warts are beyond believe.

Even among folks whose own culture its is about, you will hardly meet anyone who would not be wanting to leave (like the ~10% of population who emigrated already).

And the desinterest in expansion of consciousness, the dispassion and ignorance will not even halt before our little gastronomic experiment, as innovative or enriching it might be.

Of the negative reactions spread about the apple pie (for gums who have not experienced mixture of crisp /dry and juicy yet): "This is raw / not baken through yet". Or typical expertise of a local customer 'in the know': "The apple pieces have drained into the pastry. They should first be made compote of"[8|], "This is all crumbling on the plate!" etc.
About crisp French baguette: "Don´t you have bread?! Shall I go and get some?"

Naturally, it had to do with psychological invitation to common "expertise", by insecure and devote serving personnel while I was not present. For, feedback on what was served by myself turned out 100% positive if not rave.
But it comes to show typical attitude; of people elsewise even limited to scarce variety, mind you.

And thus no surprise how someone told me of his two visits in foreign restaurants in the capitol. He said that he was sitting with his wife alone in a totally vacant Italian restaurant and a Chinese one as well.

These guys, no matter where they emigrate to, even to a culinary dream like Italy or France (or some places like in the USA where you can find the world´s gathered cuisine within a walks reach), they will stick to homeland lifestyle, mentality and cuisine, just in the ways that they have not invented anything new since about 2000 years.

Maybe the world´s leading mentality of desinterest and dispassion.
-

And I won´t mention what I had to see in amateur video last night on opposition TV-channel news from abroad. Victims were a cat and a cute scotch terrier. It left me desperate and sleepless.
Things happening all the time, each day again.

Some civilisations are simply just crap. Too little of good to be worth mentioning and way too much reason to be fundamentally changed.

With the café I was hoping to find an outcome and balance for losses, but also and not at last create a little refuge, so that folks (mainly university students there) could be taking a break / make sort of a tiny trip without leaving.
But another coup robbed us from reserves, so that urgent measures like improving acoustics (can´t wait to build those darn panels and traps!!) can´t be done now, while we need to see whether we can survive at all the insane usury of rent there. (Beverly Hills appearing cheaply priced compared to provincial shacks here, let alone real estate in larger cities; no matter how ugly and desolate they be. - Kind of like India´s Bombay that ended up as the world´s most expensive city, in an upside-down world.)

Besides, I knew to be having a hand with cooking, but never expected any passion with baking, nor that I could reach to tastiness surprisingly fast.

But I´m getting too lengthy again.
Really wished I could serve you the pie, Anders. :O)

Best,

Ruphus

Images are resized automatically to a maximum width of 800px