rombsix -> RE: My attempt for Recuerdos de la Alhambra (Apr. 23 2015 23:57:58)
quote:

Ramzi,

If you wonder whether I can play flamenco tremolo or not fast enough, please watch this youtube video of mine from 0:52 to 1:13. I am not saying, I am an expert, I am implying that I can play it with decent speed

I am telling you, I played the flamenco tremolo and I DID NOT LIKE IT on this piece even though I love the technic itself. I don't like Orhan's version either. I just don't think the piece sounds beautiful with flamenco tremolo. It is a personal taste.

as to your point to go back and learn the piece note by note, well that's how it is usually done.

If you could pinpoint the area of "error" I would love to go back and correct it but giving me a range of 40 second in a piece that plays in 2:30 to 3:00 minutes in total, and telling me "there are errors in that range", is not a help my friend



Oh man, TK...

Seriously I'm a nice person, and I am just trying to be friendly and help you. I wonder if this has anything to do with our discussion before about tremolo...

http://www.foroflamenco.com/tm.asp?m=176762&mpage=1&p=&tmode=1&smode=1&key=tremolo%2Cpp

Would it be too much of a coincidence not to consider that lingering memory of the above as fuel for some resistance to even wanting to hear, let alone read carefully, what I said? Let's leave the psychiatric mumbo-jumbo aside and get down to business.

I still find it hard to understand why you do not like this piece with flamenco tremolo. The only reason you cited so far is that it slows down the piece, however, you pointed out that you are pretty good at flamenco tremolo being done fast (even though those videos you linked me to are 95% on the first string, so that does not count especially with Recuerdos which has a lot of B string work). So if you COULD play flamenco tremolo just as fast as classical tremolo, then would you still not like the piece being played with flamenco tremolo? Humor me and clarify this point, because I seriously don't see any difference remaining between flamenco tremolo and classical tremolo if they could both be played at the same tempo. (of course, 5 notes can never be played as fast as 4 notes taking into account really high tempos, but hey, we're not trying to rock this piece out at 250 BPM now are we?)

In my mind, it would make sense for someone who is a flamenco guitarist such as yourself to potentially try to adapt flamenco techniques to classical pieces just to make them more interesting... sort of like what Todd referenced.

Again, if you read carefully, you will notice that I pointed out two areas, 2:02 and 2:40. I did not say from 2:02 until 2:40. And I said both those areas are repeats of the same passage, and you mess it up on both occasions, which I felt should be enough clarity for you to understand where you played incorrectly. I guess not, though. I was able to tell just from hearing what you did and having the correct original tune in my head, but it sounds like you have not been able to make that distinction, and I cannot hold that against you. Of course, I am not trying to say I am better than you because I was able to hear that. Perhaps it was just an attention lapse on your part. So here is the score with highlights to show you where you need to correct what you played. I hope now you can see what I mean.

Again, I am genuinely trying to engage in friendly discussion. I have no business coming here to attack you. I don't even know you! I'm sure that if we sat together, we would enjoy a great jamming session and you would hopefully let me sample your awesome guitars that probably cost more than my entire net worth. Online communication is not governed by the same rules as face-to-face communication, and it creates a lot of situations as the above which in reality are not actual situations. I apologize if I came across to you as vile, but I am really just trying to be useful to this foro and to you by what I am contributing here, and I am sincerely just curious in my questions and encouragement.



Here is where you mess up. I've slowed down your video.

I've highlighted the measure in the score in red outline. For some reason, you play FIVE of those E notes on the second fret of the fourth string instead of playing just three. The second repetition, you even throw in a low A (open fifth) instead of one of erroneous E's that you did in the first go around. Thereby, this leads to you playing notes "incorrectly" (because don't really exist), and therefore the rhythm gets screwed. That is what I was referencing...

I hope this makes sense now, and again, if you would like to chat on FB, I more than ready to do so to clear up any air that might need clearing up still. This is all a byproduct of online communication.

Cheers!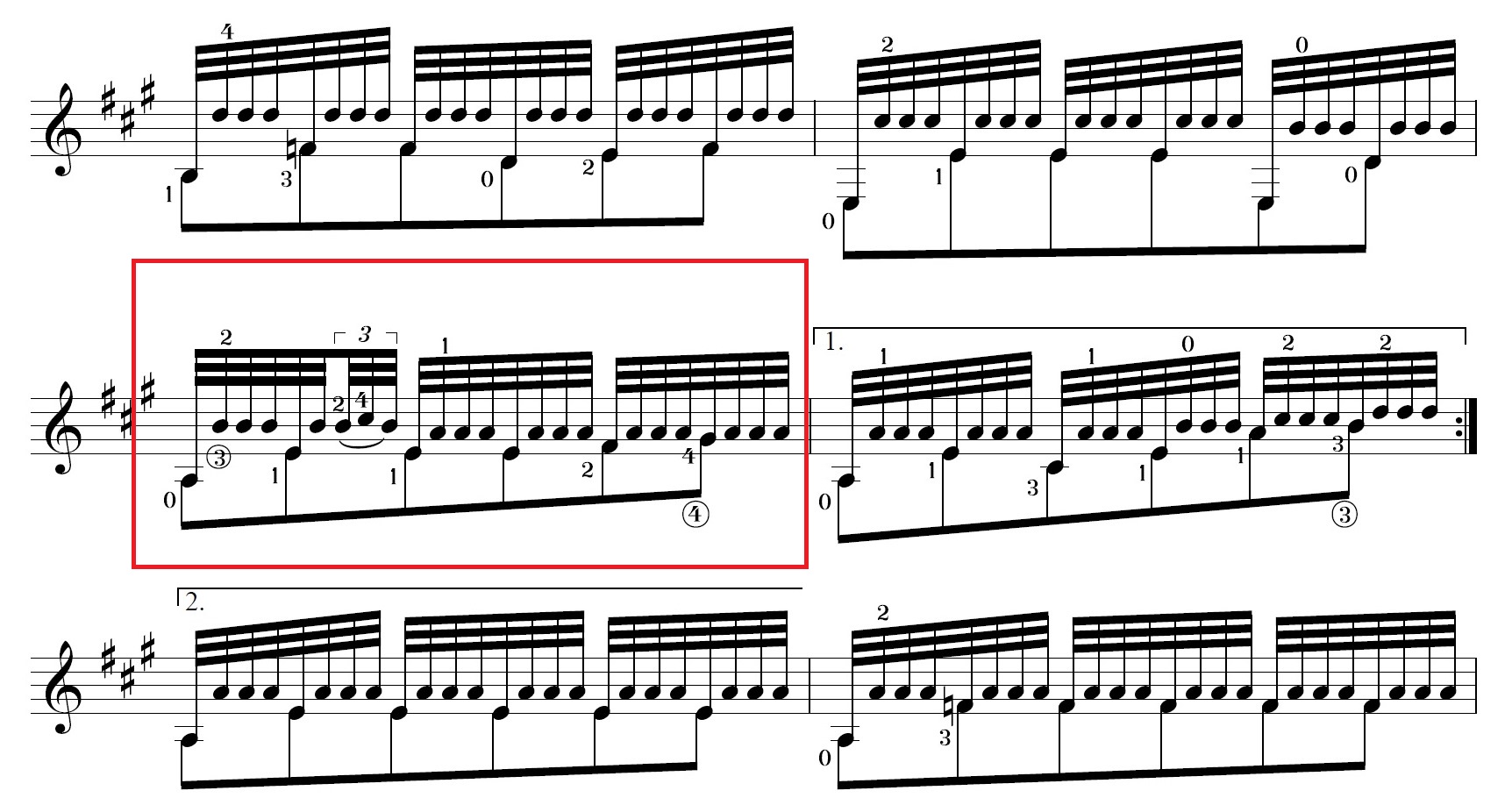 Images are resized automatically to a maximum width of 800px