Piwin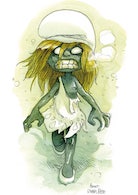 Posts: 3458
Joined: Feb. 9 2016


Yago Santos "Alma de Nino"...

---

I recently purchased the 2 "songbooks" for Yago Santos's album "Alma de nino". Quick review for those interested:

Each book is around 150 pages. They've dispensed with the lengthy introductions that you find in some books (for instance, with the PdL books you can take away 30 pages more or less for the introduction, which is repeated in several languages) so, give or take a few pages for a preface and bio or the like, most of it is actual music (I'd say about 135 pages are music).

I purchased the books from Santos's website. A note of caution: this might have been a mistake on my part, but I ended up with the digital version of the books (pdf) and no hard copy. Nowhere on the site did I see it specified that it was only a digital version. This was OK with me, since I find the hard copies of most flamenco score collections to be rather unwieldy (seriously, for some of these you need a brick to keep the damn thing open!) so I didn't request the hard copy. I mention this only for those of you who may want a nice book for display or who just prefer to work with paper: best to double-check what you're actually purchasing.

The transcriptions include both classical notation and tabs, written by Santos himself. The quality is quite good overall. There are some mistakes in the tabs but nothing unusual for this type of publication. Solea and SpB are written out in 3/4, bulerias in 6/8 and seguiriya in 6/4. Chord names and small charts for hand positions are included for rueda de accordes when they occur. On the album version of several of the pieces, there is a second guitar in certain parts. The transcription for these second parts is not included in the songbook.

The first book is in standard tuning, except for an SpB in DADGAE. At the exception of a piece in rondena tuning, the second book is in odd tunings, ranging from EbADGBbEb to BGDF#BD. This makes the few mistakes in the tablatures a little bit more difficult to handle, since you'll have less reference points in those weird tuning systems than in the more standard tunings (compounded with the fact that there is little out there in terms of videos of Santos playing these pieces, so less data to use to double check that the tabs are correct). This also means that if you're just looking for a few falsetas to incorporate into your own playing in standard tuning, the 2nd book will be of little use to you.

All in all I'm happy with it. It's not perfect but it's well within the standard range of quality for transcription books and the 30 euros per book are a pretty good deal IMO.

_____________________________

"Anything you do can be fixed. What you cannot fix is the perfection of a blank page. What you cannot fix is that pristine, unsullied whiteness of a screen or a page with nothing on it—because there's nothing there to fix."