henrym3483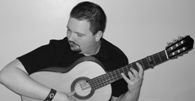 Posts: 1520
Joined: Nov. 13 2005
From: Limerick,Ireland

Guitares flamencas de Jerez - Vol. 1...

---

https://www.amazon.com/Guitares-flamencas-Jerez-flamenco-guitar/dp/0232105650

Vol 1 covers material from Perico el del Lunar and Manuel Morao.
From the first look and run through of the book over an hour or two, it has a nice few groups of falsetas from tangos, tientos, solea, solea por medio, alegrias, seguiriyas.

This is very useful material for song accompaniment, and so far, the perico de lunar material has a few nice remates i have not heard played amongst the contemporary jerez players. Be clear, a lot of this can be considered toque antiguo but it sounds nice to my ear anyway.

I've been a fan of a lot of Manuel Morao's playing for quite some time, and the alegrias and seguiriyas material is spot on, now all need to do is the the ppi technique up to speed to pull it off. There is also a very nice section of tremolo falsetas.

All in all, a very nice outline of two of Jerez's old school. Volume 2 is Parilla de Jerez and Paco Cepero. Money and time permitting, looking forward to picking up Vol 2.