Peter Tsiorba -> RE: Peek at a new rosette design. (Feb. 26 2010 14:03:36)
quote:

ORIGINAL: Ron.M



quote:

A brown, minimalistic rosette



Are you sure you are responding to estebanana's jpg?


cheers,

Ron



No, I think Doitsujin is commenting on my rosette. Yes, it is rather minimalist. I'm not sure how any rosette can possibly appeal to everyone. As to IKEA style design comment, Torres and Santos Hernandez (and many other designers through the centuries) must have been prophets. They have both used some extremely simple designs as well. Probably looked into their crystal ball, and stole the futurist ideas from IKEA designers ;)

Doitsujin, I am not against more elaborate rosettes, and have done both kinds. I have not developed a "signature" rosette yet. Not even sure I want to--for now I'm having too much fun experimenting with different ideas! I think both, simple and intricate can be successful, if executed with taste and cleanly done.

In the end, I'd rather see more "imperfect" shop-made rosettes than a bunch of "perfect" commercial samples sold in quantity. After all, what's so collectible about a $15 factory rosette, no matter how "pretty" it may be?

Doitsujin, just out of curiosity, do you have a photo of your favorite rosette? It's always interesting to see the expression of individual aesthetic.

Stephen (Estebanana), what other rosettes have you been doing lately? I'd enjoy seeing some photos.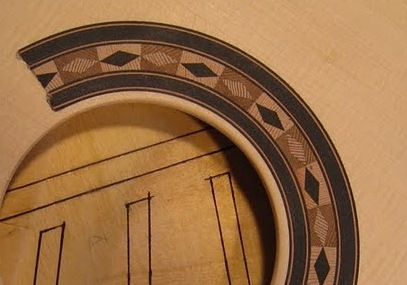 Images are resized automatically to a maximum width of 800px