RobF -> Spraying Tinted Shellac (Feb. 9 2021 18:20:42)
This post is inspired by HR's thread on applying tinted shellac*, which I'm having trouble opening, so I thought I'd start a new thread. I'm hoping HR can jump in here, if he wants, as he has a lot of experience with spraying from his aviation work, so he might have some helpful hints to add to the mix.

* http://www.foroflamenco.com/tm.asp?m=332472&p=1&tmode=1&smode=1

————

Last summer I decided to try my hand at spraying tinted shellac on a couple of Blanca guitars. I'd been meaning to do this for some time but I had a hefty incentive provided to me by my friend Jack, who made a Blanca in his shop in Georgia the year before last and then brought it to Granada, where his friend Francesco Diaz showed him how they applied their tinted "Old Gold" finish.

Needless to say, the result was spectacular and my own reaction to seeing the guitar, as well as the reactions of some of my Granada friends, pretty well convinced me that I wanted to try my hand at tinting my Blancas, or at least to achieve a deeper tint than I had in the past through padding on darker shellacs.

Right up front, I want to caution that this thread simply outlines how I did it last summer, it was a learning experience for me, and of course there are many ways to go about this, so it's not intended to be a definitive instructional or anything like that. I'm also aware that the thought of artificially tinting a guitar can be met with derision by some makers, but I can't help that, beyond saying I don't subscribe to the concept of maintaining an ideal of purity of execution when frankly I don't think this was a restriction the masters placed upon themselves to start with. I guess I just have to rely on my own instincts when it comes to the matter. To my mind, it's a case of the ends justifying the means, and if the result is an object of beauty, then how can that reasonably be questioned?

Regardless of any of that, I wanted to try applying a tinted finish via a sprayed application and so I requested, through our mutual friend, that Francesco show me how he does it. He agreed to do so in the spring, but then COVID happened and that all fell apart.

He did allow my friend to give me some hints on their method, however, and they also supplied me with the name of the tint they used. A few months later I had an impromptu video call meet-up with his older brother who, upon hearing I was trying my hand at spray tinting, again volunteered similar, if not the same, information. I won't divulge those details here on the Foro, because I consider it to be proprietary to them, but since I actually can't even buy the stuff in NA, I was still left to my own devices to come up with my own solution.

First off, the equipment:

The gear I used is pretty accessible to anyone and didn't require a large cash outlay. As matter of fact, I was able to buy a duplicate spray gun on Amazon for a very affordable price. The gun I used was a small California Air Tools Spray-it LVLP gun with a 0.8mm tip. If you look on the side it says R100; the second gun I bought was I think advertised simply as that, but the kit that arrived was absolutely identical to the first gun, which was purchased directly from California Air Tools through another source (I suspect my Amazon purchase was supplied by them, as well).

The main thing is that it be a LVLP (Low Volume, Low Pressure) gun, so look for that, as it can be used with a small shop compressor and doesn't need a large holding tank. My compressor is a Makita 2.6 gallon, 2HP, 3.3CFM@90PSI rig. It's a good, portable size for a shop.

For spraying shellac the gun worked a charm.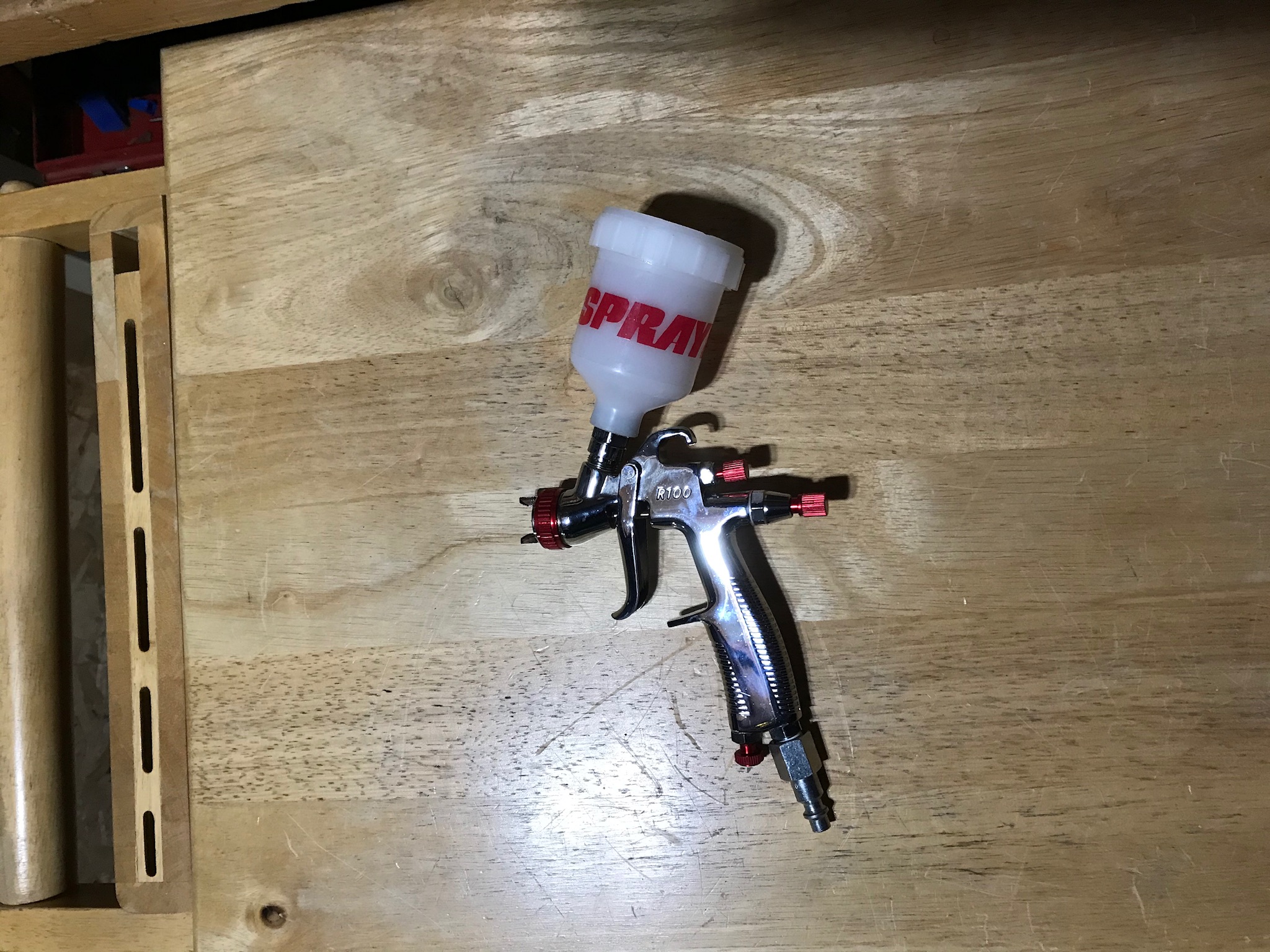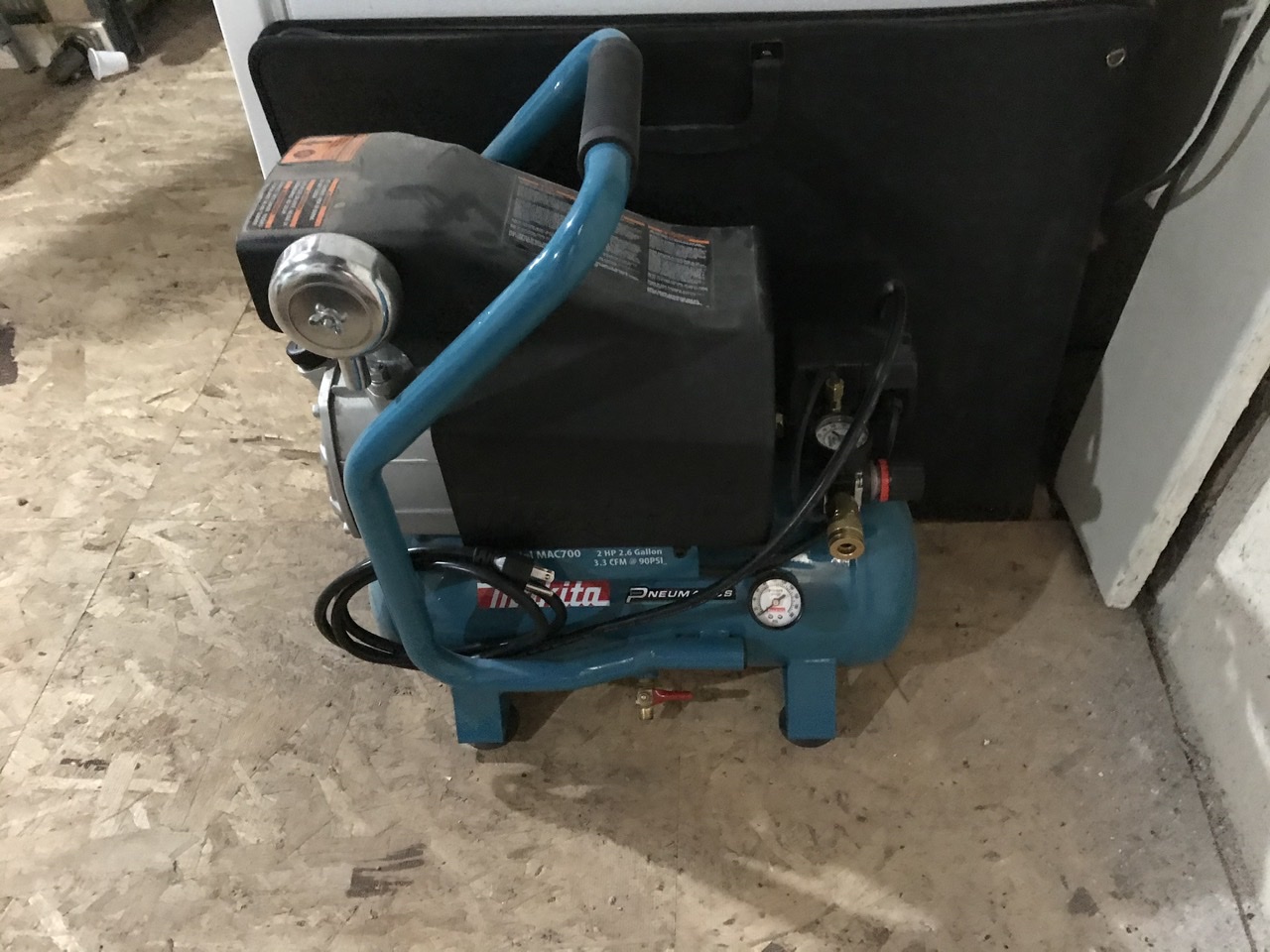 To be continued next post....

Images are resized automatically to a maximum width of 800px