RobF -> RE: Are you adding relief? (Nov. 12 2020 1:45:43)
Hi Jason. There is a chance that you could have stiffened the neck or even added a touch of backbow if the fret slots were too narrow for the tangs. You don't need to buy a notched straightedge to check the board, you can easily make one (see picture below). Adding relief at the fret level can be done to add a smidgen of relief, but care should be taken not to add too much and end up with overly low frets.

If you are reinforcing the neck and want to add relief when planing your fretboard you can start by dressing it to be dead flat and pointing to where you want it, then lightly add relief to the bass side while doing the cleanup sanding by increasing pressure in the area you want the relief to be. In other words, as you pass over, say, the area between the third or fourth fret to about the 12th portion of the board, just gradually increase, then decrease, the pressure on the bass side of the sanding block. Constantly measure the progress with a straightedge and feeler gauges (or by eye).

You can also use a scraper to add the relief, instead of a sanding block. In some ways it's better because it's less likely to round down towards the edge of the fingerboard, which sanding can do if the paper is just held over the block. Or use both.

With the guitar you have, if the problem is really bugging you, it might be worth checking the dimensions of the neck with an eye to possibly reducing its thickness, which could allow it to pull some relief under tension. If the guitar isn't playable, then a refret isn't the end of the world and relief can then be added to the board. Just make sure the fret slots are deep enough before refretting.

I'm sure there are lots of opinions on this, these are just things I've done in the past. I don't always add relief, I try to judge the neck. Some makers will string up the guitar before fretting and see how the neck will behave and assess or adjust the relief accordingly. That's probably the smartest way to do it.

The notched straightedge can be made by planing an off-cut (from a side, for example) true and then adding the notches with a table saw.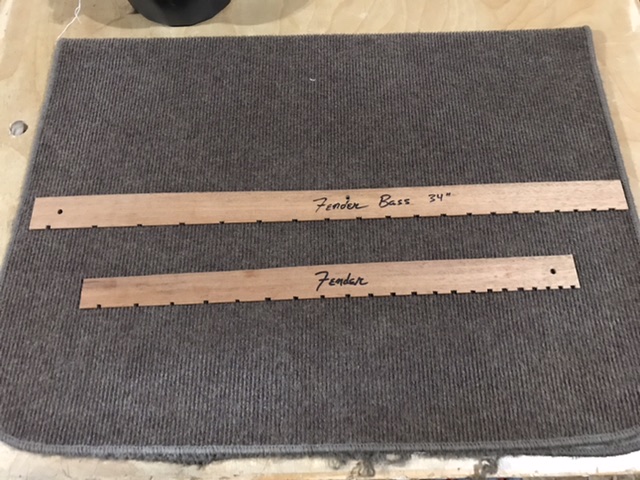 Images are resized automatically to a maximum width of 800px