lamorenitaflamenca -> MANTON & MANTON WITH BATA DE COLA WORKSHOPS WITH ESTÉR TAL OF MI FLAMENCO (Jul. 6 2014 21:12:47)
Learn the art of dancing with the Manton (flamenco shawl) with the lead dancer of international flamenco company Mi Flamenco

Date: Saturday 26th July

Workshop 1: Manton Technique
All levels welcome including beginners
Time: 11.00am-12.30pm

Workshop 2: Manton and Bata de Cola
Participants must have experience dancing with the bata de cola and their own bata de cola skirt.
Time: 1.00pm-2.30pm

Prices:
£28 on the day to attend an individual class or £25 booked and paid in advance
£54 on the day to attend both classes or £48 booked and paid in advance

If you do not have a manton and would like to do either or both courses we have some mantons available to lend out on the day. Please get in contact beforehand to check availability.

To book in advance email Michelle at info@lamorenitaflamenca.co.uk or call 07944 337 904

Places will be limited to allow students sufficient space to dance with the manton and the bata de cola so book early to avoid disappointment.

Venue:
Upstairs Dance Studio
Ovalhouse, 52-54 Kennington Oval, London, SE11 5SW
Nearest Tube: Oval (turn left on exiting the tube)

Ester Tal
Ester Tal has studied with some of the most renowned teachers and artists ever seen in Spain: in the capital itself in the famous "Amor de Dios" flamenco school and in Jerez de la Frontera, in Andalusia. Dancers and teachers such as Ciro, Maria Magdalena, Maria Bermudez, Belen Fernandez, Carmela Greco, Manuela Carpio among many others. She has performed in various theatres both in and outside Spain including "El teatro de Burgos", Madrid and Zaragoza and theatres throughout the UK and in major US cities.

She's toured in Spain with Maria Gracia and the Spanish classical singers in "Esas Cosas del Querer", where she performed solo and in duets as support to this very popular Spanish show. Apart from large theatres, she has also danced on the prestigious circuit of more intimate flamenco venues called "peñas" and "tablaos" alongside other well-known flamenco artists; venues highly respected among the flamenco community.

In Jerez, she's danced in "Parilla" tablao, "La Taberna Flamenca" and "La Damajuana" with up and coming artists from Andalusia. In 2005, she was invited to perform with other Jerez artists, (Luis El Mono, Ali de la Tota, Juanilloro etc) in the esteemed annual festival event, "Las Noches de la Plazuela", which takes place in one of the oldest and most prestigious peñas in Andalusia, "Los Cernícalos".

Apart from being an experienced performer, Ester is also a very experienced teacher with students of all abilities and ages. In her flamenco academy, Ester teaches a wide range of ages and levels. Besides her regular flamenco classes, she also teaches specialised workshops for students from first-time beginners to advanced and gives private lessons.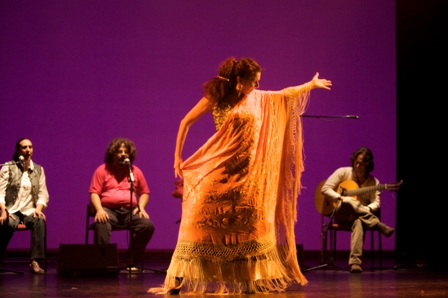 Images are resized automatically to a maximum width of 800px