estebanana -> RE: Dispatches from Akune (Jun. 10 2013 2:18:16)
Now that Richard has scared the pee-whottle out of us with ciguatera, a food illness that sounds like a flamenco palo, how about some yakiniku?


To make the dipping sauce: Hot miso paste, sesame oil, sugar, ginger, soy sauce.

Cut up any veggies you like, get some thin slices of beef and some gyoza. Gyoza are potstickers, before we came to Japan we used to buy them at Trader Joe's in the frozen section and they are not bad at all.

These hot plate pans with no stick surfaces are available just about everywhere. This is just Sunday night dinner, no big deal. I love eating this way, but I have to be honest, I'm going to make hamburgers soon. I was going make hamburgers for dinner earlier this week, but Yuko stopped me because her dad, who is pretty experimental for a 79 year old Japanese guy, would have had difficulty with hamburgers for dinner. She said hamburgers are a lunch item. Yeah right, not for me babe!

Reminds me of a Chinese cooking show I once saw where the chef said westerners are repugnant because they bring big slabs of meat to the table and butcher the animal at the table. Chinese, he said, are more genteel because they do the butchering in the kitchen and prepare the food in delicate bites you can pick up with chop sticks. Remember that next time you're at family dinner and Uncle Albert is carving up the brown crusted roast with a two pronged fork and a freshly honed silver blade. Remember you are a barbarian as the juicy pink slices fall off of uncles blade and onto your plate and the hot buttered mashed potatoes are passed to you.

When I was in China the chef for the student dorm liked to come to the table to see how we were eating. He explained the whole thing much better, he said Chinese people, and Japanese to an certain extent, like to have a little bite of everything, variety at the table pleases them. They want beef, pork, and a fish at the table, plus three or more vegetables. We might be happy with a burger and fries or the roast beef with mash and two more vegetables and bread. In general the west favors bigger portions of fewer choices, while the Chinese favor more choices in smaller portions, plus the fact that we are uncivil for bringing long knives to the table.

In Argentina I walked into an asado and as handed choripan and a glass of tinto. Over the next two hours several different cuts of slow roasted beef and beef organs came off the grill, there was a salad too, but mainly it was bread, meat and tinto. I wish the Chinese TV chef had been there to witness the sublime act of Argentines cooking beef. He would have dismounted his high horse of moral cheffitude and begged for tri tip sliced right off the grill.

And for the vegetarians, just print this post out and cross out every mention of beef and it will be ok. Yakiniku means grilled meat, but it works with all veggies, add a few pickles.


How does Ciguatera go? Ayeeeeee, yaya ya eeeeeeeeeee..

Anyone know any letras por Ciguatera?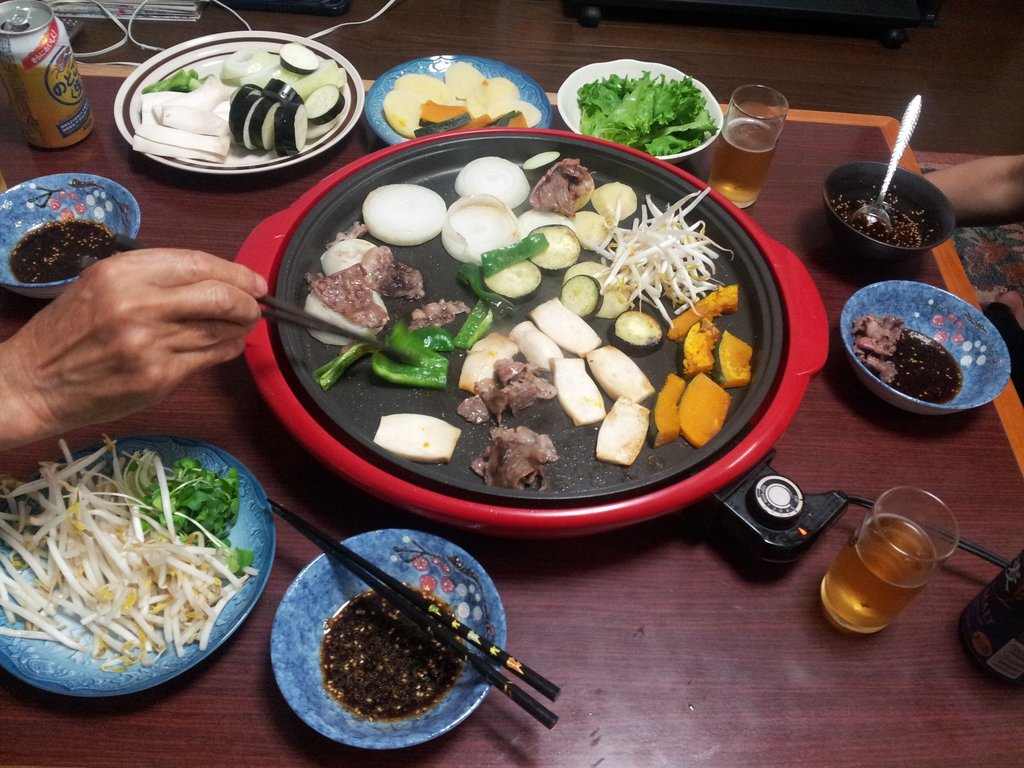 Images are resized automatically to a maximum width of 800px