FlamencoD -> New Flamenco Guitar! (Sep. 21 2012 1:39:17)
I've been learning flamenco for the past year and 8 months on a Rodriguez classical guitar. I decided I wanted to upgrade to a nice flamenco, but couldn't afford a custom luthier made one. The guitars I played in my pursuit for a nice flamenco are as follows (with brief thoughts), all are blancas:

Various cheap factory made models: Cordoba, Yamaha: Crap. I knew I wasn't going to buy an entry level guitar, but played these anyway. The Yamaha 172 at $320 was better than the $650 Gypsy King Cordoba. I couldn't believe how ugly looking the Yamaha was, the back and sides literally looked painted yellow; I could barely see any grain in it. It didn't play that horribly, though. The "Gypsy King" Cordoba flamenco guitars sounded and played awful. The Cordoba 45FM (I think) at about $500 was better than then Gypsy King and Yamaha models, but still not that great. It was playable at least.

Manuel Rodriguez FF - I sort of knew I wouldn't keep this one, but I wanted to try it out. I was pretty disappointed with this one after receiving it, the setup was too high for a flamenco, IMO, and the basses were kind of dull. It did have a full sound when strummed, and lots of volume. It was probably the prettiest guitar of all the ones I tried with a beautiful rosette and lovely colorful purfling, but it is a mid-ish level factory guitar, so I am not surprised it fell in last place of the >$1200 group. It is slightly bigger and 1 pound heavier than the others listed below.

Hermanos Conde Blanca - I had the chance to play this guitar used, it was pretty nice; low action and snappy trebles, but the basses just didn't quite do it for me. I honestly am not crazy about the Conde orange, either. Plus, I couldn't figure out how much the instrument was actually worth, so I didn't know if I was over-paying at the asking price or not.

Glenn Canin No. 1 - I really liked this guitar, so I bought it after playing it 3 different times. It is snappy, good basses, decent volume, percussive, really flamenco sounding IMO. It is a joy and easy to play. Sounds great playing bulerias. It is also set up really low so there's some buzzing, but nothing too loud. I really like the planetary pegs. It was formally played by Jason McGuire, and it is pretty beat up. There's a lot of golpe damage, a crack in the top, and scratches throughout. I had Peter Tsiorba quote me for a FP refinish and repair of the crack, and correcting a few other issues/ scratches. It also has an intonation issue (that can be fairly easily corrected according to Canin himself). But that's additional $. I had it for a few weeks, almost settled completely on it, but thought that I should talk to Ron Hudson about the Navarro Concert Flamenco because of all of the rave reviews Navarro gets on this site. Fast forward a few days and I received the Navarro and played both back and forth for 3 days...and that leads me to...

Francisco Navarro Concert Flamenco - Very rich and full sounding guitar, both while strumming chords and in all flamenco techniques. It is pretty loud and beautifully constructed; the workmanship is top notch. The basses and mids are gorgeous soundng, the highs are not as snappy as the Conde or Canin, but it could be the strings, or the scale (660 vs 650). It weighs the same as the Canin Blanca (2.7 lbs) so it is pretty light. Strangely, it feels a little bit heavier in the hands than the Canin, but I weighed them, and they are the same. The bodies are almost identically sized; they must both be based on the 30s Santos Hernandez design, but I'm not sure. It has a real attractive rosette and simple multi layered binding, with a pretty rosewood head stock and attractive gold tuners. It also smells good - I can't figure out if it is the wood (Cypress, spruce?) or the finish, or a combination. I do know the smell is stronger inside the guitar than out, so it must be mostly from the unfinished surfaces inside the guitar.

And the winner is....the Navarro Concert Flamenco! It was a tough choice at first between that and the Canin, but the more I played them, the clearer the choice became. The Canin was nice, but the richness of the Navarro won me over. My wife also chose the Navarro in a blind sound test almost instantly once I started playing it (after playing the Canin first). So there you have it.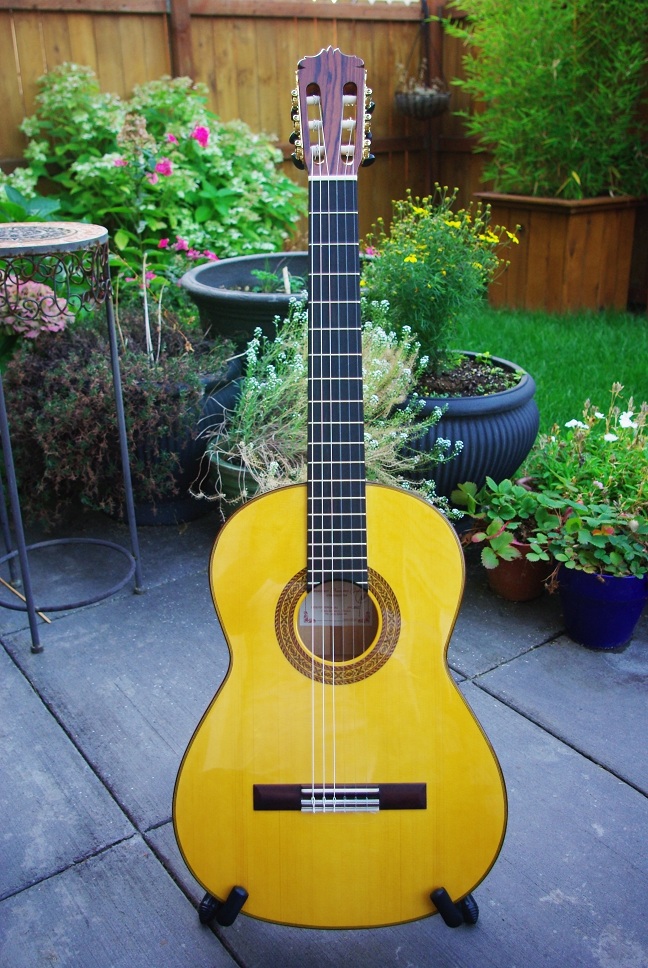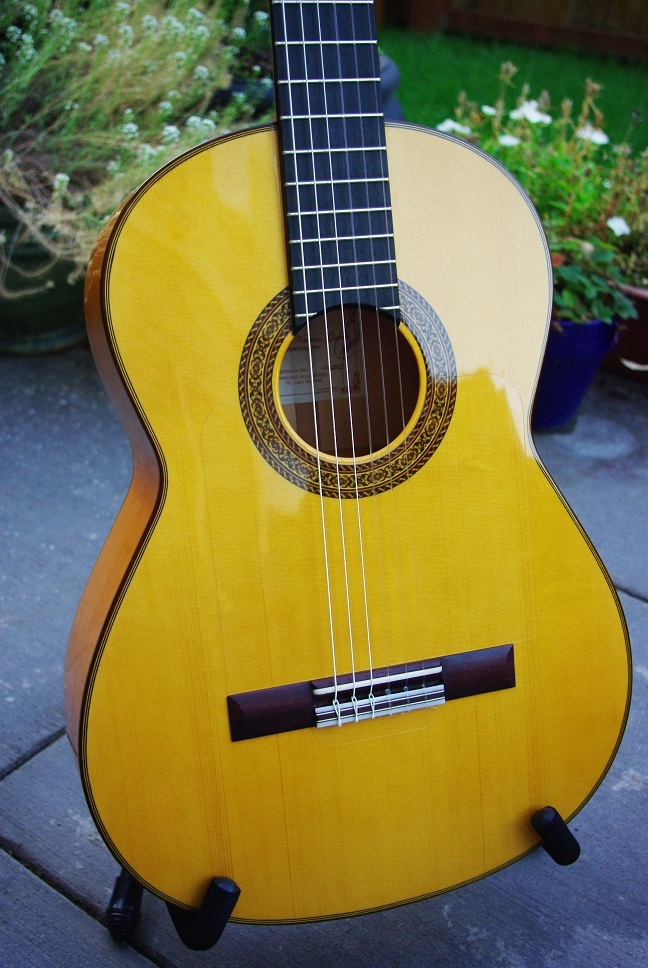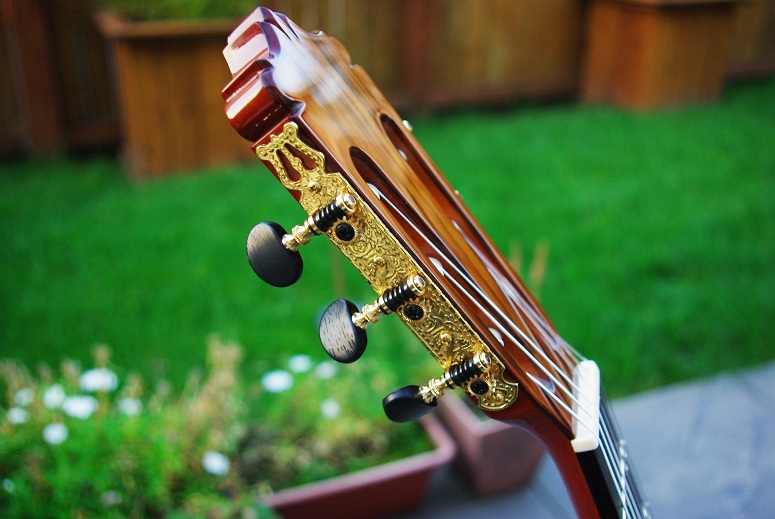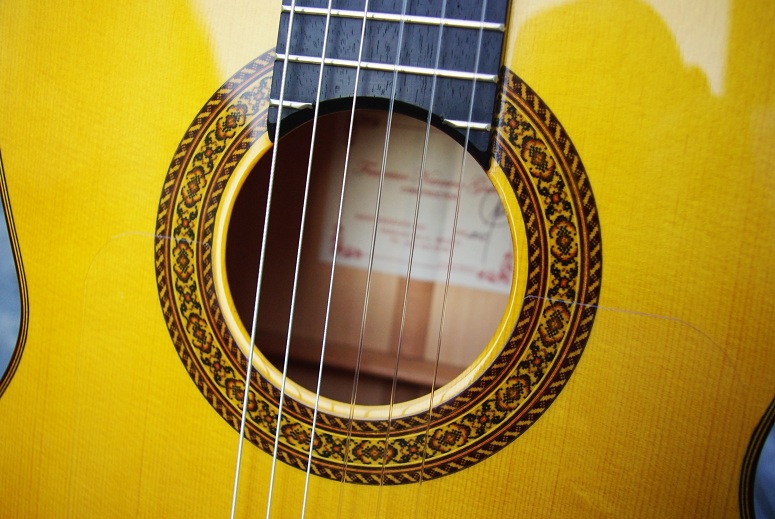 Images are resized automatically to a maximum width of 800px